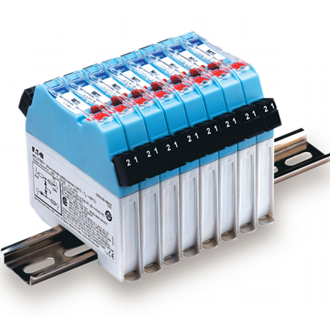 BASIC INFO
Product overview
MTL7707+ barrier for switch inputs and switched outputs, need more information for our
MTL7707+ isolators?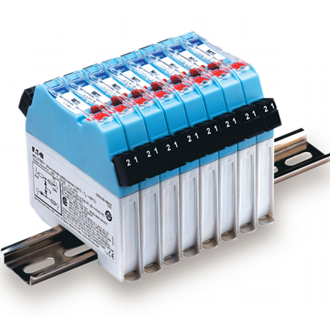 MTL7707+ product description as below
MTL7707+ barrier for switch inputs and switched outputs
The MTL7707+ is a 2-channel shunt-diode safety barrier similar to the MTL7787+ but with built-in electronic overvolt protection. It is intended primarily for safeguarding a hazardous-area switch controlling a relay, opto-coupler or other safe-area load from an unregulated dc supply in the safe area. The outgoing channel accepts supply voltages up to +35V and is protected against reverse voltages: the return channel is unaffected by voltages up to +250V. In normal operation the protection circuit introduces only a small voltage drop and shunts less than 1mA to earth, so its overall effect is minimal. If the supply voltage exceeds about 27V, however, causing the Zener diodes to conduct – or if the safe-area load has a very low resistance – the supply current is limited automatically to 50mA, protecting the fuse and power supply and enabling the loop to continue working.
ADDITIONAL SPECIFICATION
Safety description
28V 300Ω 93mA, terminals 1 to 3
28V Diode, terminals 2 -4
Supply voltage
10 to 35V dc with respect to earth
Output current
Up to 35mA available
Maximum voltage drop
(at 20ºC, current not limited)
Iout x 345Ω + 0.3V, terminals 1 to 3
Iout x 25Ω + 0.9V, terminals 4 to 2
Supply current
Iout + 1.6mA, supply <26V
Limited to 50mA, supply >28V or low load resistance
Other related models for MTL7700 series as below
MTL7706+
MTL7707+
MTL7707P+
MTL7710+
MTL7715+
MTL7715P+
MTL7722+
MTL7728+
MTL7728-
MTL7728AC
MTL7728P+
MTL7729P+
MTL7741
MTL7742
MTL7743
MTL7744
MTL7745
MTL7755AC
MTL7756AC
MTL7758-
MTL7758+
MTL7760AC
MTL7761AC
MTL7761PAC
MTL7764+
MTL7764AC
MTL7765AC
MTL7766AC
MTL7766PAC
MTL7767+
MTL7778AC
MTL7779+
MTL7787+
MTL7787-
MTL7787P+
MTL7788+
MTL7788R+
MTL7789+
MTL7796-
MTL7796+
MTL7798
MTL7799
MTL705+
MTL706+
MTL707+
MTL707P+
MTL708+
MTL710+
MTL710AC
MTL710P+
MTL715+
MTL715P+
MTL722+
MTL722P+
MTL728+
MTL728AC
MTL728P+
MTL729P+
MTL751AC
MTL755AC
MTL758+
MTL760AC
MTL761AC
MTL761PAC
MTL764+
MTL764AC
MTL765AC
MTL766AC
MTL766PAC
MTL767+
MTL768+
MTL772AC
MTL778AC
MTL779+
MTL786+
MTL787+
MTL787S+
MTL787SP+
MTL788+
MTL788R+
MTL791
MTL796+
MTL799

Need more information for MTL7707+ barrier for switch inputs and switched outputs, please contact us here!
Contact details
HONGKONG XIEYUAN TECH CO., LIMITED
Telephone:86-027-85880977
Mobile :86-13545206420(Whatapp&Wechat is available)
Fax:86-027-85309780
Skype:Diana@hkxytech.com
E-mail:Diana@hkxytech.com
Website:www.hkxy-lowvoltage.com