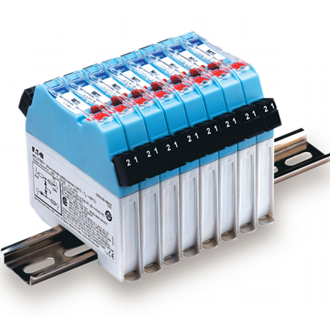 BASIC INFO
Product overview
MTL7707P+ two-channel shunt-diode safety barrier, 100% original MTL product for sale.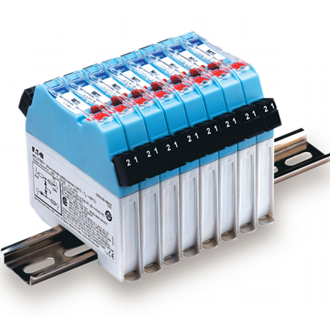 MTL7707P+ product specification as below
MTL7707P+ for switch inputs and switched outputs, 2W Transmitters (IIB gases)
The MTL7707P+ is a two-channel shunt-diode safety barrier similar to the MTL7787P+, but is designed for use with group IIB gases and features built-in electronic overvolt protection allowing use with unregulated power supplies up to 35V dc. It is intended primarily as a low cost solution for driving IIB certified 2-wire 4/20mA transmitters, but can also be used with controller outputs with current monitoring, solenoid valves and switches. To protect the fuse and enable the loop to continue working, the supply current is limited automatically at 50mA should the output be short-circuited or excess voltage applied.
MTL7707P+ two-channel shunt-diode safety barrier
ADDITIONAL SPECIFICATION
Safety description
28V 164Ω 171mA, terminals 1 to 3
28V Diode, terminals 4 to 2
Supply voltage
10 to 35V dc with respect to earth
Output current
Up to 35mA available
Maximum voltage drop
(at 20ºC, current not limited)
Iout x 218Ω + 0.3V, terminals 1 to 3
Iout x 20.1Ω + 0.9V, terminals 4 to 2
Supply current
Iout + 1.6mA, supply <26V
Limited to 50mA, supply >28V or low load resistance
Other related models for MTL7700 series as below
MTL7706+
MTL7707+
MTL7707P+
MTL7710+
MTL7715+
MTL7715P+
MTL7722+
MTL7728+
MTL7728-
MTL7728AC
MTL7728P+
MTL7729P+
MTL7741
MTL7742
MTL7743
MTL7744
MTL7745
MTL7755AC
MTL7756AC
MTL7758-
MTL7758+
MTL7760AC
MTL7761AC
MTL7761PAC
MTL7764+
MTL7764AC
MTL7765AC
MTL7766AC
MTL7766PAC
MTL7767+
MTL7778AC
MTL7779+
MTL7787+
MTL7787-
MTL7787P+
MTL7788+
MTL7788R+
MTL7789+
MTL7796-
MTL7796+
MTL7798
MTL7799
MTL705+
MTL706+
MTL707+
MTL707P+
MTL708+
MTL710+
MTL710AC
MTL710P+
MTL715+
MTL715P+
MTL722+
MTL722P+
MTL728+
MTL728AC
MTL728P+
MTL729P+
MTL751AC
MTL755AC
MTL758+
MTL760AC
MTL761AC
MTL761PAC
MTL764+
MTL764AC
MTL765AC
MTL766AC
MTL766PAC
MTL767+
MTL768+
MTL772AC
MTL778AC
MTL779+
MTL786+
MTL787+
MTL787S+
MTL787SP+
MTL788+
MTL788R+
MTL791
MTL796+
MTL799

Need more information for MTL7707P+ barrier for switch inputs and switched outputs, please contact us here!
Contact details
HONGKONG XIEYUAN TECH CO., LIMITED
Telephone:86-027-85880977
Mobile :86-13545206420(Whatapp&Wechat is available)
Fax:86-027-85309780
Skype:Diana@hkxytech.com
E-mail:Diana@hkxytech.com
Website:www.hkxy-lowvoltage.com