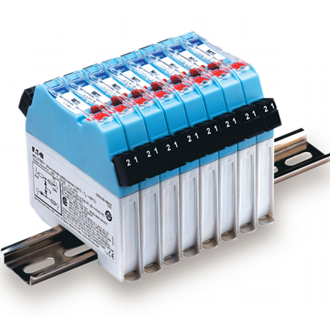 BASIC INFO
Product overviews
MTL7706+ active / electronically protected barrier high quality product with good price for sale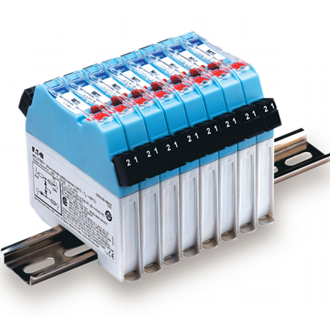 MTL7706+ product description
MTL7706+ for 'smart' 2-wire 4/20mA transmitters
The MTL7706+ is a 1-channel shunt-diode safety barrier, with builtin electronic overvolt protection, for energising a 2-wire, 4/20mA transmitter in a hazardous area. It is powered from a positive supply of 20–35V dc and delivers a 4/20mA signal into an earthed load in the safe area. It is proof against short circuits in the field and in the safe area and is extremely accurate. The MTL7706+ will pass incoming communication signals up to10kHz from a 'smart' transmitter, while in the outgoing direction it will pass signals of any frequency likely to be encountered.
Since the MTL7706+ has no return channel for energising the load, the entire output of the single '28V' channel is available to power the transmitter, providing high output capability. This channel is negatively polarised, and the safe-area signal is in fact the very current that returns through it from the hazardous area, the novel circuit being energised by a built-in floating dc supply derived from the external dc source of power.
To prevent any leakage through the zener diodes and maximise the output voltage available at 20mA, the floating supply is given a rising voltage/current characteristic. A separate circuit limits the current to protect the fuse in the event of a short circuit in the hazardous area. With a 20V supply, the barrier will deliver 16.2V minimum at 20mA for the transmitter and lines and consumes typically 45mA at 24V operation.

MTL7706+ ADDITIONAL SPECIFICATION

Safety description:28V 300Ω 93mA
Supply voltage:20 to 35V dc w.r.t earth
Output current:4 to 20 mA
Voltage available to transmitter and lines
16.2V @ 20mA with 250Ω load (negative w.r.t. earth)
11.0V @ 20mA with 500Ω load (negative w.r.t. earth)
Accuracy:±2µA under all conditions
Safe-area load resistance:0 to 500Ω
Supply current
45mA typical at 20mA and 24V supply
60mA maximum at 20mA and 20V supply


Other related models for MTL7700 series as below
MTL7706+
MTL7707+
MTL7707P+
MTL7710+
MTL7715+
MTL7715P+
MTL7722+
MTL7728+
MTL7728-
MTL7728AC
MTL7728P+
MTL7729P+
MTL7741
MTL7742
MTL7743
MTL7744
MTL7745
MTL7755AC
MTL7756AC
MTL7758-
MTL7758+
MTL7760AC
MTL7761AC
MTL7761PAC
MTL7764+
MTL7764AC
MTL7765AC
MTL7766AC
MTL7766PAC
MTL7767+
MTL7778AC
MTL7779+
MTL7787+
MTL7787-
MTL7787P+
MTL7788+
MTL7788R+
MTL7789+
MTL7796-
MTL7796+
MTL7798
MTL7799
MTL705+
MTL706+
MTL707+
MTL707P+
MTL708+
MTL710+
MTL710AC
MTL710P+
MTL715+
MTL715P+
MTL722+
MTL722P+
MTL728+
MTL728AC
MTL728P+
MTL729P+
MTL751AC
MTL755AC
MTL758+
MTL760AC
MTL761AC
MTL761PAC
MTL764+
MTL764AC
MTL765AC
MTL766AC
MTL766PAC
MTL767+
MTL768+
MTL772AC
MTL778AC
MTL779+
MTL786+
MTL787+
MTL787S+
MTL787SP+
MTL788+
MTL788R+
MTL791
MTL796+
MTL799

Need more details for MTL7706+ active / electronically protected barrier, please contact us here!
Contact details
HONGKONG XIEYUAN TECH CO., LIMITED
Telephone:86-027-85880977
Mobile :86-13545206420(Whatapp&Wechat is available)
Fax:86-027-85309780
Skype:Diana@hkxytech.com
E-mail:Diana@hkxytech.com
Website:www.hkxy-lowvoltage.com