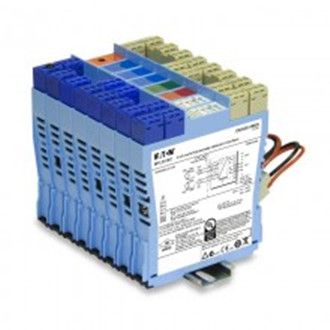 BASIC INFO
Production overviews
MTL 5500 Intrinsically Safe Isolators MTL5561
MTL4561 – MTL5561 FIRE AND SMOKE DETECTOR INTERFACE 2-channel
The MTLx561 is a loop-powered 2–channel interface for use with conventional fire and smoke detectors located in hazardous areas. In operation, the triggering of a detector causes a corresponding change in the safe–area current. The unit features reverse input polarity protection.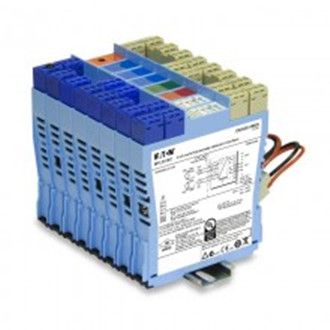 MTL5561 product specification
SPECIFICATION
See also common specification
Number of channels
Two, fully floating, loop powered
Location of fire and smoke detectors
Zone 0, IIC, T4–6 hazardous area if suitably certified
Div. 1, Group A, hazardous area
Input voltage
6 to 30V dc
Current range
1 to 40mA, nominal
Quiescent safe–area current at 20°C
(hazardous–area terminals open circuit)
< 400µA at Vin = 24V per channel
Integral input polarity protection
Input circuit protected against reverse polarity
Minimum output voltage Vout at 20°C
For Vin ≤ 25V: Vout = Vin – (0.38 x current in mA) – 2V
For Vin > 25V: Vout = 22.5V – (0.35 x current in mA)
Maximum output voltage
28V from 300Ω
Transfer accuracy at 20°C
Better than 400µA
Temperature drift
< 4µA/°C ( 0°C to 60°C)
< 15µA/°C (–20°C to 0°C)
Response time to step input
Settles to within 5% of final value within 1.5ms
Power dissipation within unit
0.7W maximum at 24V with 40mA signal (each channel)
0.9W maximum at 30V with 40mA signal (each channel)
Safety description for each channel
Uo=28V Io=93mA Po=0.65W Um = 253V rms or dc
Other related product models for MTL5500 range as below for your reference.
MTL5018AC
MTL5501-SR
MTL5510
MTL5510B
MTL5511
MTL5513
MTL5514
MTL5514D
MTL5516C
MTL5517
MTL5521
MTL5522
MTL5523
MTL5523V – V
MTL5524
MTL5525
MTL5526
MTL5541
MTL5541A
MTL5541AS
MTL5541S
MTL5544
MTL5544A
MTL5544AS
MTL5544D
MTL5544S
MTL5546
MTL5546Y
MTL5549
MTL5549Y
MTL5573
MTL5575
MTL5576-RTD
MTL5576-THC
MTL5581
MTL5582
MTL5582B
MTL5991
MTL5531
MTL5532
MTL5533
MTL5561
MPA5500
MTL5051
MTL5053
MTL5314
MTL5599
Need more information for MTL5561 safe barriers? Please feel free to contact me here.
Contact details
HONGKONG XIEYUAN TECH CO., LIMITED
Telephone
:86-027-85880977
Mobile
:86-13545206420(Whatapp&Wechat is available)
Fax
:86-027-85309780
Skype
:Diana@hkxytech.com
E-mail
:Diana@hkxytech.com Or Cc:
Dianatian118@gmail.com
Website
:www.hkxy-lowvoltage.com