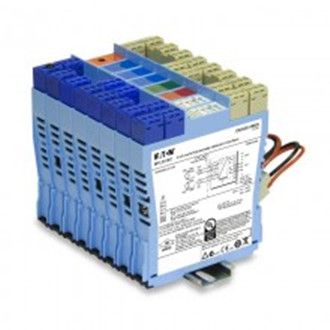 BASIC INFO
Production overviews
MPA5500 A.C. power adaptor
MPA5500 A.C. POWER ADAPTOR
The MPA5500 enables any MTL5500 module that is normally powered from a nominal 24V DC supply (i.e. those that are not loop-powered) to be powered from a high-voltage AC supply. It plugs into the power socket (terminals 13 and 14) of an MTL5500 module and clips securely onto the module housing. The 25V DC power output from the adaptor is sufficient to supply a single module and can be connected to any normal AC power source.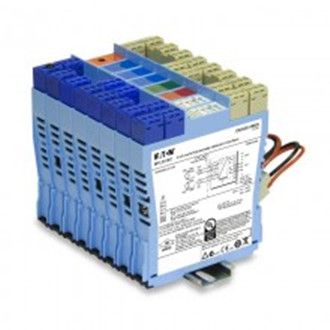 MPA5500 product specification
SPECIFICATION
Input voltage
85 – 265V AC, (45–65Hz)
Efficiency
71% typ. at 230V AC
Power dissipation
1.2W typ at 230V AC.
Input terminals
Cage-clamp terminals accommodating conductors up
to 1.5mm2
stranded or 16AWG single-core
Input protection
internal fuse, not user serviceable
Output voltage
25Vdc ± 10%
Output current
120mA at 25V
Ambient temperature
Operating: –20 to +60°C
Storage: –40 to +80°C
Mounting
Plugs into and clips onto MTL5500 range I/O module
It is not for use with any equipment other than MTL5500.
Humidity
5 to 95% relative humidity
Mechanical
Ingress Protection: IP20
Material: polycarbonate
Weight: 28g approx.
Standards compliance
EN 61326, EN 61010
SPECIFICATION
PCL45USB hardware
Location
Safe area
Connections
PC side: USB B(F) socket
Converter side: cable with 3.5mm jackplug, 3-pole for MTL4500
and MTL5500 range of converters. An adapter cable is provided
for other earlier MTL converters.
Cable lengths
Converter side (fitted): 1.5m
USB cable A(M) to B(M) (supplied): 2m
Ambient temperature limits
–10°C to +60°C operating
–20°C to +70°C storage
Humidity
5 to 95% relative humidity (non-condensing)
Weight
200g
PCS45 Configuration software
Compatible with Windows XP, Win7, Win8.
Consult MTL for operation with any other operating system.
Software medium
PCS45 supplied on CD
Updates are available at www.mtl-inst.com
Recommended minimum PC configuration
Microsoft Windows XP, Win7, Win8
20MB of available hard disc space
CD ROM drive
Available USB port
Printer (local or network)

Other related product models for MTL5500 range as below for your reference.
MTL5018AC
MTL5501-SR
MTL5510
MTL5510B
MTL5511
MTL5513
MTL5514
MTL5514D
MTL5516C
MTL5517
MTL5521
MTL5522
MTL5523
MTL5523V – V
MTL5524
MTL5525
MTL5526
MTL5541
MTL5541A
MTL5541AS
MTL5541S
MTL5544
MTL5544A
MTL5544AS
MTL5544D
MTL5544S
MTL5546
MTL5546Y
MTL5549
MTL5549Y
MTL5573
MTL5575
MTL5576-RTD
MTL5576-THC
MTL5581
MTL5582
MTL5582B
MTL5991
MTL5531
MTL5532
MTL5533
MTL5561
MPA5500
MTL5051
MTL5053
MTL5314
MTL5599
Need more information for MTL5500 series isolated barriers? Please feel free to send me an inquiry here.
Contact details
HONGKONG XIEYUAN TECH CO., LIMITED
Telephone
:86-027-85880977
Mobile
:86-13545206420(Whatapp&Wechat is available)
Fax
:86-027-85309780
Skype
:Diana@hkxytech.com
E-mail
:Diana@hkxytech.com Or Cc:
Dianatian118@gmail.com
Website
:www.hkxy-lowvoltage.com