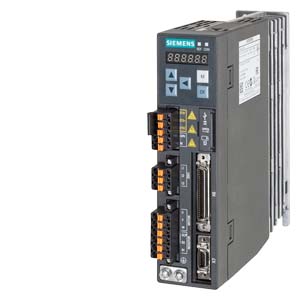 BASIC INFO
Product overview


Siemens 6SL3210-5FB10-8UF0 200-240V SINAMICS V90 converter for sale with good price.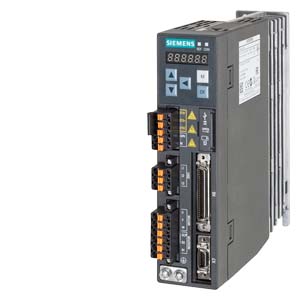 Siemens 6SL3210-5FB10-8UF0 converter product specification.
Product
Article Number (Market Facing Number)
6SL32105FB108UF0 | 6SL32105FB108UF0
Product Description
SINAMICS V90, with PROFINET Input voltage: 200-240V 1/3 AC -15%/+10% 10.4A/5.0A 45-66Hz Output voltage: 0-input V 4.7A 0-330Hz motor: 0.75kW type of protection: IP20 Frame size C, 80x 170x 195 (WxHxD)
Product family
SINAMICS V90 servo drive
Product Lifecycle (PLM)
PM300:Active Product
Price data
Price Group
A86
List Price
Show prices
Customer Price
Show prices
Metal Factor
None
Delivery information
Export Control Regulations
AL : N / ECCN : EAR99H
Standard lead time ex-works
15 Day/Days
Net Weight (lb)
4.299 lb
Product Dimensions (W x L x H)
Not available
Packaging Dimension
4.252 x 9.252 x 10.63
Package size unit of measure
in
Quantity Unit
1 Piece
Packaging Quantity
1
Additional Product Information
EAN
4042948671764
UPC
804766287619
Commodity Code
85044084
LKZ_FDB/ CatalogID
SINAMICS V90
Product Group
4R31
Country of origin
China
RoHS Compliance
Since: 04/01/2013
Returnable
No
Obligation Category for taking back electrical and electronic equipment after use
No obligation to take back electrical and electronic equipment after use
Other related model for Siemens SINAMICS V90 servo drive product as below.
6SL32105FB101UA0
6SL32105FB101UF0
6SL32105FB102UA0
6SL32105FB102UF0
6SL32105FB104UA1
6SL32105FB104UF1
6SL32105FB108UA0
6SL32105FB108UF0
6SL32105FB110UA1
6SL32105FB110UF1
6SL32105FB115UA0
6SL32105FB115UF0
6SL32105FB120UA0
6SL32105FB120UF0
6SL32105FE104UA0
6SL32105FE104UF0
6SL32105FE108UA0
6SL32105FE108UF0
6SL32105FE110UA0
6SL32105FE110UF0
6SL32105FE115UA0
6SL32105FE115UF0
6SL32105FE120UA0
6SL32105FE120UF0
6SL32105FE135UA0
6SL32105FE135UF0
6SL32105FE150UA0
6SL32105FE150UF0
6SL32105FE170UA0
6SL32105FE170UF0
6SL3210-5FB10-1UA0
6SL3210-5FB10-1UF0
6SL3210-5FB10-2UA0
6SL3210-5FB10-2UF0
6SL3210-5FB10-4UA1
6SL3210-5FB10-4UF1
6SL3210-5FB10-8UA0
6SL3210-5FB10-8UF0
6SL3210-5FB11-0UA1
6SL3210-5FB11-0UF1
6SL3210-5FB11-5UA0
6SL3210-5FB11-5UF0
6SL3210-5FB12-0UA0
6SL3210-5FB12-0UF0
6SL3210-5FE10-4UA0
6SL3210-5FE10-4UF0
6SL3210-5FE10-8UA0
6SL3210-5FE10-8UF0
6SL3210-5FE11-0UA0
6SL3210-5FE11-0UF0
6SL3210-5FE11-5UA0
6SL3210-5FE11-5UF0
6SL3210-5FE12-0UA0
6SL3210-5FE12-0UF0
6SL3210-5FE13-5UA0
6SL3210-5FE13-5UF0
6SL3210-5FE15-0UA0
6SL3210-5FE15-0UF0
6SL3210-5FE17-0UA0
6SL3210-5FE17-0UF0


For more information about Siemens 6SL3210-5FB10-8UF0 converter product, please feel free to contact me here.
Contact details
HONGKONG XIEYUAN TECH CO., LIMITED
Telephone:86-027-85880977
Mobile :86-13545206420(Whatapp&Wechat is available)
Fax:86-027-85309780
Skype:Diana@hkxytech.com
E-mail:Diana@hkxytech.com Or Cc:Dianatian118@gmail.com
Website:www.hkxy-lowvoltage.com