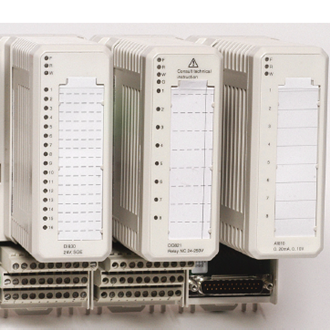 BASIC INFO
Product overview
ABB S800 I/O Modules
ABB DO810 Digital Output Module 24 V 0.5 A Current Sourcing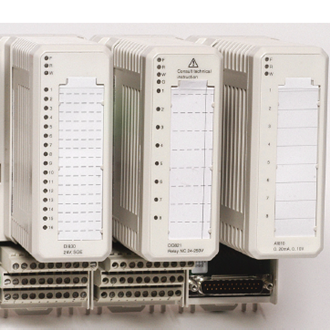 ABB S800 I/O Modules
ABB DO810 Digital Output Module product features
Features
•16 channels for 24 V d.c. current sourcing outputs.
•2 isolated groups of 8 channels with process voltage supervision.
•Output status indicators.
•OSP sets outputs to predetermined state upon error detection.
•Short-circuit protection to ground and 30 V.
•Over-voltage and over-temperature protection.

ABB S800 I/O Modules
ABB DO810 Digital Output Module product description
The DO810 is a 16 channel 24 V digital output module for the S800 I/O. This module has 16 digital outputs. The output voltage range is 10 to 30 volt and the maximum continuous output current is 0.5 A. The outputs are protected against short circuits, over voltage and over temperature. The outputs are divided into two individually isolated groups with eight output channels and one voltage supervision input in each group.
Each output channel consists of a short circuit and over temperature protected high side driver,
EMC protection components, inductive load suppression, output state indication LED and optical isolation barrier.
The process voltage supervision input give channel error signals if the voltage disappears.The error signal can be read through the ModuleBus.
The outputs are current limited and protected against over temperature. If the outputs are overloaded the output current will be limited. This means that the power dissipation in the output stage will increase and the output will shutdown if the temperature in the output stage increases above 150° C (302° F). The output will switch on again automatically as the component temperature has decreased to about 140° C (284° F). If any output is shutdown due to overload, the indication LED on that channel is also switched off. The output status of that channel cannot be read from the module.
Four different types of MTUs can be used. TU830 Extended MTU and TU810 (or TU814) Compact MTU have terminals for 24 V output power connections and two terminals per channels. The TU812 Compact MTU has a D-Sub 25 pin (male) connector for connection to the process.

Other related models for ABB S800 I/O Modules ABB DO810 Digital Output Module
AI801 Analog Input Module, 0(4)...20 mA
AI810 Analog Input Module, 0(4)...20 mA, 0(2)...10 V
AI815 Analog Input Module
AI820 Differential Analog Input Module, +/- 20 mA, +/- 10 V, +/- 5 V (4...20 mA, 2...10 V, 1...5 V)
AI825 Galvanic Isolated Analog Input Module
AI830/AI830A RTD Input Module
AI835/AI835A Thermocouple/mV Input Module
AI843 Thermocouple/mV Input Module
AI845 Analog Input Module, single or redundant
AI880/AI880A High Integrity Analog Input Module
AO801 Analog Output Module, 0(4)...20 mA
AO810/AO810V2 Analog Output Module, 0(4)...20 mA
AO815 Analog Output Module
AO820 Galvanically Isolated Bipolar Analog Output Module
AO845/AO845A Analog Output Module, Single or Redundant
DI801 Digital Input Module, 24 V, Current Sinking
DI802 Digital Input Module, 120 V a.c./d.c, Current Sinking
DI803 Digital Input Module, 230 V a.c./d.c, Current Sinking
DI810 Digital Input Module, 24 V, Current Sinking
DI811 Digital Input Module, 48 V, Current Sinking
DI814 Digital Input Module, 24 V, Current Sourcing
DI818 Digital Input Module, 24 v, Current Sinking
DI820 Digital Input Module, 120 V a.c./d.c
DI821 Digital Input Module, 230 V a.c./d.c
DI825 Digital Input Module, 125 V d.c with SOE
DI828 Digital Input Module
DI830 Digital Input Module, 24 V d.c. with SOE, Current Sinking
DI831 Digital Input Module, 48 V d.c. with SOE, Current Sinking
DI840 Digital Input Module
DI880 High Integrity Digital Input Module
DI885 Digital Input Module, 24 V /48 V d.c. with SOE, Current Sinking
DO801 Digital Output Module 24 V, 0.5 A, Current Sourcing
DO802 Digital Output Module, 24-250 V, Relay Normally Open
DO810 Digital Output Module 24 V, 0.5 A Current Sourcing
DO814 Digital Output Module 24 V, 0.5 A, Current Sinking
DO815 Digital Output Module 24 V, 2 A, Current Sourcing
DO818 Digital Output Module 24 V, 0.5 A, Current Sinking
DO820 Digital Output Module, Relay Normally Open
DO821 Digital Output Module, Relay Normally Closed
DO828 Channel Relay Output Module
DO840 Digital Output Module
DO880 High Integrity Digital Output Module
DP820 Incremental Pulse Counter Module
DP840 Incremental Pulse Counter Module
If you need more information about
ABB S800 I/O Modules
ABB DO810 Digital Output Module, please feel free to contact me here!
Contact details
HONGKONG XIEYUAN TECH CO., LIMITED
Telephone:86-027-85880977
Mobile :86-13545206420(Whatapp&Wechat is available)
Fax:86-027-85309780
Skype:Diana@hkxytech.com
E-mail:Diana@hkxytech.com
Website:www.hkxy-lowvoltage.com