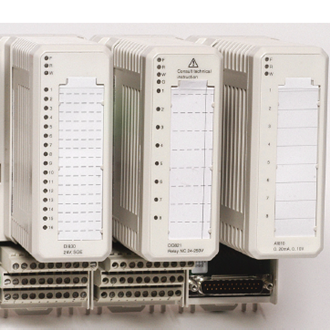 BASIC INFO
Product overview
ABB DI831 Digital Input Module, 48 V &SOE, Current Sinking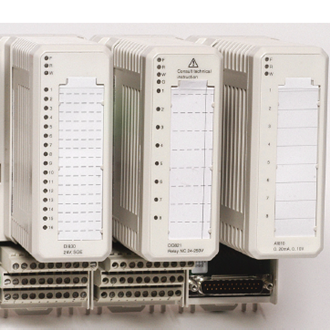 ABB DI831 Digital Input Module product feature
Features
•16 channels for 48 V d.c. inputs with current sinking.
•2 isolated groups of 8 channels with voltage supervision.
•Input status indicators.
•Sequence of event (SOE) functionality.
•Shutter filter.
ABB DI831 Digital Input Module product description
The DI831 is a 16 channel 48 V d.c. digital input module for the S800 I/O. The input voltage range is 36 to 60 V d.c. and the input current is 4 mA at 48 V d.c.).
Each input channel consists of current limiting components, EMC protection components, input state indication LED and optical isolation barrier.
The module cyclically performs selfdiagnostics.
Module diagnostics include:
•Process power supply supervision (results in a module failure, if detected)
•Event queue full.
•Time synchronization missing.
The input signals can be digitally filtered. The filter time can be set in the range 0 to 100 ms. This means that pulses shorter than the filter time are filtered out and
pulses longer than specified get through the filter. Eight different types of MTUs can be used. The Extended MTU (for example TU830/TU833) enables three wire connection to the sensors without additional
terminals. The Compact MTU (for example TU810, TU 814 ) has terminals for process voltage supervision inputs, but requires external terminals for distribution of process power supply to the sensors. The TU818 Compact MTU provides connection to 2-wire sensors without external marshaling. The extended MTU, TU838, provide a fuse (3 A max.) per two channels for process power out. The TU812 Compact MTU has a D-Sub 25 pin (male) connector for connection to the process. TU850 provides one disconnectable PTC fused sensor/transmitter power outlet terminal per channel.

Other related models for ABB DI831 Digital Input Module as below
AI801 Analog Input Module, 0(4)...20 mA
AI810 Analog Input Module, 0(4)...20 mA, 0(2)...10 V
AI815 Analog Input Module
AI820 Differential Analog Input Module, +/- 20 mA, +/- 10 V, +/- 5 V (4...20 mA, 2...10 V, 1...5 V)
AI825 Galvanic Isolated Analog Input Module
AI830/AI830A RTD Input Module
AI835/AI835A Thermocouple/mV Input Module
AI843 Thermocouple/mV Input Module
AI845 Analog Input Module, single or redundant
AI880/AI880A High Integrity Analog Input Module
AO801 Analog Output Module, 0(4)...20 mA
AO810/AO810V2 Analog Output Module, 0(4)...20 mA
AO815 Analog Output Module
AO820 Galvanically Isolated Bipolar Analog Output Module
AO845/AO845A Analog Output Module, Single or Redundant
DI801 Digital Input Module, 24 V, Current Sinking
DI802 Digital Input Module, 120 V a.c./d.c, Current Sinking
DI803 Digital Input Module, 230 V a.c./d.c, Current Sinking
DI810 Digital Input Module, 24 V, Current Sinking
DI811 Digital Input Module, 48 V, Current Sinking
DI814 Digital Input Module, 24 V, Current Sourcing
DI818 Digital Input Module, 24 v, Current Sinking
DI820 Digital Input Module, 120 V a.c./d.c
DI821 Digital Input Module, 230 V a.c./d.c
DI825 Digital Input Module, 125 V d.c with SOE
DI828 Digital Input Module
DI830 Digital Input Module, 24 V d.c. with SOE, Current Sinking
DI831 Digital Input Module, 48 V d.c. with SOE, Current Sinking
DI840 Digital Input Module
DI880 High Integrity Digital Input Module
DI885 Digital Input Module, 24 V /48 V d.c. with SOE, Current Sinking
DO801 Digital Output Module 24 V, 0.5 A, Current Sourcing
DO802 Digital Output Module, 24-250 V, Relay Normally Open
DO810 Digital Output Module 24 V, 0.5 A Current Sourcing
DO814 Digital Output Module 24 V, 0.5 A, Current Sinking
DO815 Digital Output Module 24 V, 2 A, Current Sourcing
DO818 Digital Output Module 24 V, 0.5 A, Current Sinking
DO820 Digital Output Module, Relay Normally Open
DO821 Digital Output Module, Relay Normally Closed
DO828 Channel Relay Output Module
DO840 Digital Output Module
DO880 High Integrity Digital Output Module
DP820 Incremental Pulse Counter Module
DP840 Incremental Pulse Counter Module
If you have any other question about
ABB DI831 Digital Input Module, please feel free to contact me here!
Contact details
HONGKONG XIEYUAN TECH CO., LIMITED
Telephone:86-027-85880977
Mobile :86-13545206420(Whatapp&Wechat is available)
Fax:86-027-85309780
Skype:Diana@hkxytech.com
E-mail:Diana@hkxytech.com
Website:www.hkxy-lowvoltage.com