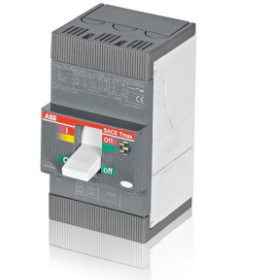 BASIC INFO
Production overviews
SACE Tmax T - IEC
Tmax is a complete range of moulded case circuit breakers, covering applications from 320A up to 3200A
Tmax T4, T5 and T6 are the moulded case circuit breakers with the best performance/size ratio on the market. T4 and T5 guarantee a breaking capacity up to 200kA at 415V and 80 kA at 690V.
T4, T5 and T6 have the same depth, simplifying their positioning in the switchboard compartments, and a standardized and unified range of accessories.
Moreover, they complete the range of applications up to 1150V in alternating current and 1000V in direct current.
Tmax T7 is available in two versions up to 1600 A either with operating toggle or in motorizable version. They can be installed both vertically and horizontally even in the withdrawable version. Electrical performances are consistent with the rest of the range with a maximum breaking capacity of 150kA at 415V. A wide range of dipswitches and LCD electronic trip units can be selected according to plant requirements.
Tmax T8 covers 2000 A, 2500 A and 3200 A frame sizes with two breaking capacities: 85 kA and 130 kA at 415 V. It is equipped with the same electronic trip units as Tmax T7, thereby guaranteeing extremely high performances able to satisfy all installation requirements. Adequately sized for the performances offered, it is supplied as standard with front terminals up to 2500 A, whereas the 3200 A frame is always supplied with rear vertical terminals.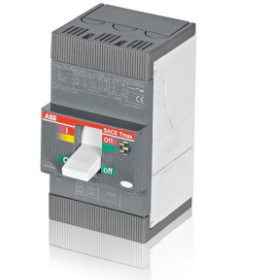 General Information
Extended Product Type:T1D 160 3p F FC Cu (1×70mm2)
Product ID:1SDA051325R1
EAN:8015644517465
Catalog Description:T1D 160 3p F FC Cu (1×70mm2)
Long Description:SWITCH-DISCONNECTOR TMAX T1D 160 FIXED THREE-POLE WITH FRONT TERMINALS FOR CABLE Cu 70mm2

Ordering
EAN:8015644517465
Minimum Order Quantity:1 piece
Customs Tariff Number:85362090
Dimensions
Product Net Width:76 mm
Product Net Height:130 mm
Product Net Depth:70 mm
Product Net Weight:1 kg
Container Information
Package Level 1 Units:1 piece
Package Level 1 Width:128 mm
Package Level 1 Height:135 mm
Package Level 1 Length:143 mm
Package Level 1 Gross Weight:1.11 kg
Package Level 1 EAN:8015644517465
Additional Information
IIT Publishing Status:Level 0 - Information enabled
Mechanical Durability:
25000 cycle
120 cycles per hour
Number of Poles:3
Power Loss:at Rated Operating Conditions per Pole 15 W
Product Main Type:SACE Tmax T
Product Name:Moulded Case Circuit Breaker
Product Type:SD
Rated Impulse Withstand Voltage (Uimp):8 kV
Rated Insulation Voltage (Ui):800 V
Rated Operational Voltage:
690 V AC
500 V DC
Rated Short-time Withstand Current (Icw):for 1 s 2 kA
Rated Uninterrupted Current (Iu):160 A
Standards:IEC 60947
Sub-type:T1
Suitable For:T1
Suitable for Product Class:Moulded Case Circuit Breakers
Terminal Connection Type:
Fixed Circuit-Breakers
Front for Copper Cables
Test Voltage at Industrial Frequency for 1 Minute:3000 V
Test Voltage Max (Utest):3000 V
Version:F
Other selection models:
T1D 160 3p F FC Cu (1×70mm2)
T1D 160 4p F FC Cu (1×70mm2)