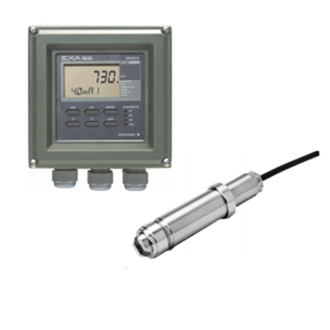 BASIC INFO
Product overview
Yokogawa MLSS Analyzers SS400G
The SS400 MLSS analyzer is a measuring system best suited to continuously and consistently measure the concentration of mixed liquor suspended solids (MLSS) in an activated-sludge treatment process found in sewage or industrial wastewater treatment facilities.
The SS400G MLSS converter has a measuring range as wide as 500-20000 mg/l (ppm). Microprocessor-based, it has a wealth of self-diagnostic functions and alarm contact outputs like other converters in the EXA series, as well as excellent operability.
The SS300G MLSS sensor uses a measuring method that compares transmitted light with scattered light. The sensor is designed with due care to the arrangement of the optical system. These design features enable measurement of even low concentrations, making the sensor less susceptible to disturbing light. The optional jet cleaning unit permits continuous and consistent measurement even in an application where the sensor is exposed to contaminants.
A self-cleaning floating holder is available in addition to free-standing and immersion models, offering a wide range of choices according to the application needs.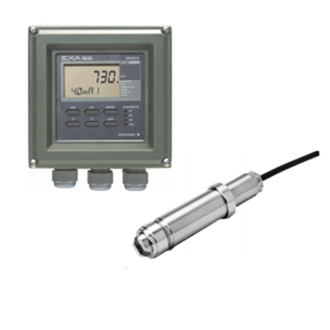 Converter
Wide output ranges, 0-1000 mg/l to 0-20000 mg/l.
Output in different two ranges.
Abundant contact outputs.
Enhanced self-diagnosis functions including failure in light source.
Sensor
Easy-to-maintain, lightweight, compact probe-like sensor.
Virtually no need for replacing light source and photodetector unit.
Pulse-driven light emission, eliminating effects of disturbing light.
Arrangement of optical system highly immune to effects of light reflecting from boundary surface.
Choice of jet cleaning unit.
Choice of various type of holders according to application needs.
Yokogawa MLSS Analyzers SS400G product specification
Converter
Measuring object
Concentration of mixed liquor suspended solids (MLSS) in an aeration tank in a sewage or industrial wastewater treatment plant
Measuring method
Transmitted/scattered light comparison method
Measuring range
500 to 20000 mg/l
Output signal
Two outputs, 4 to 20 mA DC; maximum load resistance: 600 Ω
Output range
Minimum 0 to 1000 mg/l
Maximum 0 to 20000 mg/l
Contact output
Four outputs
Contact input
Voltage-free contact for remote range selection and start of cleaning
Ambient temperature
-10 to 55℃
Relative humidity
10 to 90% RH (non-condensing)
Construction
Complies with JIS C0920 watertight, IEC IP65 and NEMA 4X standards
Supply voltage
100 to 240 V AC, 50/60 Hz, 24 V DC
Power consumption
22 VA maximum (AC power)
5 W maximum (DC power)
Weight
Approx. 2.5 kg
Sensor
Shape
Probe-like Sensor
Measuring object
Concentration of mixed liquid suspended solid (MLSS) in an aeration tank in a sewage or industrial wastewater treatment plant
Measuring principle
Scattered/transmitted light comparison method
Measuring range
500 to 20000 mg/l
Temperature of measured object
0 to 50℃
Pressure of measured object
0 to 200 kPa
Flow velocity
1 m/sec maximum
Cable length
3, 5, 10, 15 or 20 m
Material of wetted part or junction
Body; Stainless steel (304SS or equivalent)
Window; glass
O-ring; nitrile rubber
Cable; PVC
Weight
Approx. 0.5 kg plus N x 0.12 kg, where N is cable length
Cleaning unit (optional)
Jet cleaning
Note: No cleaning unit can be used if the sensor is equipped with a floating ball holder.
Material of wiper cleaning unit
Nitrile rubber and 304SS (wetted part)
Material of jet cleaning unit
Polypropylene, polyethylene and 304SS (wetted part)
Ambient temperature
-10 to 50℃
Construction
Complies with JIS rainproof standard
Yokogawa MLSS Analyzers SS400G model code information for your reference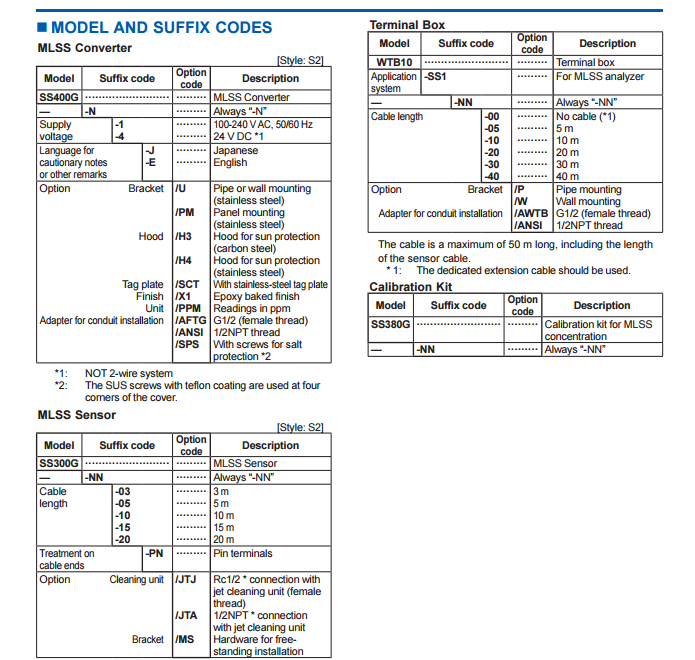 If you need more details for Yokogawa SS400G, please feel free to contact us!
Contact details
HONGKONG XIEYUAN TECH CO., LIMITED
Telephone:86-027-85880977
Mobile :86-13545206420(Whatapp&Wechat is available)
Fax:86-027-85309780
Skype:Diana@hkxytech.com
E-mail:Diana@hkxytech.com
Website:www.hkxy-lowvoltage.com