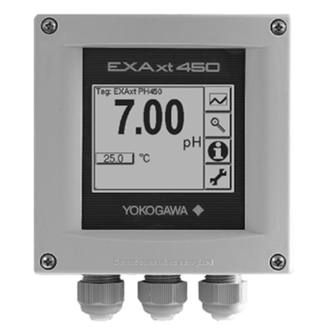 BASIC INFO
Product overview
Yokogawa PH450G Pure Water and Ultrapure Water pH/ORP Analyzer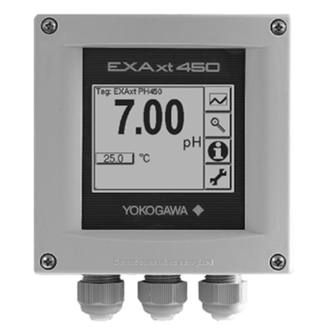 Intended for the pure water and ultrapure water applications found in the semi-conductor, power, water and pharmaceutical industries. These analyzers work with any pH/orp sensor that does not have a preamplifer built onto the sensor.
The new EXAxt 450 series builds on the superior functionality of the industry leading Yokogawa EXA series by enhancing the EXA's proven operation and application flexibility. The Model 450 series feature a uniquely simple touch screen menu structure that offers a choice of multiple languages.
The Model PH450 provides the best pH measurement accuracy in the industry resulting from advanced temperature compensation functionality, preloaded calibration standards, stability checks and online sensor and analyzer diagnostics to provide verifiable results.
In addition to dynamic sensor checking, the Model 450 offers a wash cycle function to assure trouble free and accurate analysis with a minimum of maintenance. The EXAxt 450 also offers full application functionality with PID control on either mA output(s) or on contact output(s).
The PH450 combines pH with Temperature and ORP (Redox) measurement that can be utilized though different output functions: two mA outputs, four independent SPDT contact outputs and a digital HART signal is superimposed on mA1. This information can be used to generate additional current and contact outputs in the HIM monitor and in maintenance optimization programs like PRM or AMS.
The EXAxt 450 series provides a truly unique Human Machine Interface. The high resolution graphical display and touch screen operation provides all information clearly visible and easily accessible to the operator. Simply select the language of choice and on screen instructions assure that the best configuration for the application is obtained.
Unique touch screen operation with menu structure in 5 languages
Dual High Impedance Capability, allowing for Differential pH/ORP measurements
Enhanced diagnostics, process trending graphics andon-screen logbooks for data storage
Two mA-outputs and four SPDT relay contacts with display indicators
Hart® Communications
FM Class 1, Div.2, Group ABCD, T6 for Ta-20 to 55°C
IP66/NEMA4X 1/2 DIN enclosure for Field Mounting and Panel Mounting
Three sets of preloaded pH buffer standards (NIST, US and DIN)
Yokogawa PH450G model code information for your reference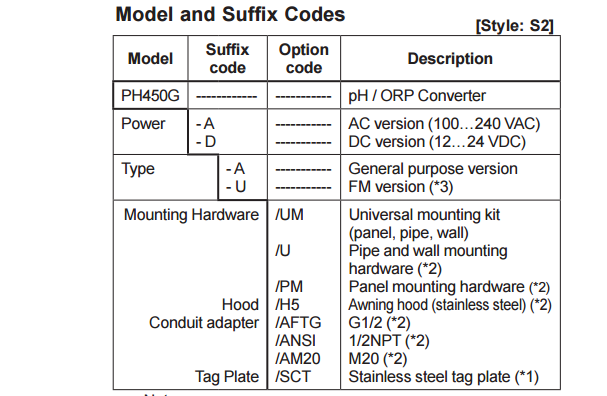 For more details for Yokogawa PH450G, please contact us online or send us an inquiry!
Contact details
HONGKONG XIEYUAN TECH CO., LIMITED
Telephone:86-027-85880977
Mobile :86-13545206420(Whatapp&Wechat is available)
Fax:86-027-85309780
Skype:Diana@hkxytech.com
E-mail:Diana@hkxytech.com
Website:www.hkxy-lowvoltage.com