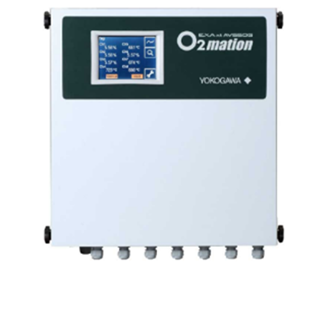 BASIC INFO
Product overview
Yokogawa ZR22/AV550G Multi Channel Oxygen Analyzer System
Zirconia Oxygen Probe/Sensor - ZR22
The industry leading ZR22 in-situ type Zirconia detector provides dependable and accurate oxygen measurement. Available in lengths from 15 cm to 5.4 meters, the ZR22 can be used in process temperatures up to 700ºC (up to 1871ºC with our close-coupled extractive adapter ZR22P), and pressurized ducts up to 2.5 bar with the pressure compensating option.
The ZR probe's in-situ measurement method does not require any process conditioning or extractive sampling. This reduces maintenance costs and allows faster measurement response to changes in the process. The new probe's modular design incorporates a rebuildable heater and thermocouple assembly, the industry standard field replacable Yokogawa Zirconia cell, and removable reference and calibration lines to create an oxygen measurement product designed for simple, quick and low-cost field maintenance.
Rebuildable, field maintainable design
Proven Zirconia sensor technology
Can be used in pressurized ducts up to 2.5 bar, 700°C (up to 1871ºC with ZR22P adapter)
Optional filters or flame arrestors
Multiple flange size options
Hazardous area probe available (ZR22S)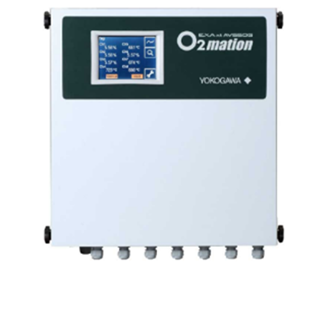 Multi Channel Zirconia Oxygen Analyzer - AV550G
The O2mation, model AV550, averaging oxygen analyzer was designed with a focus on practical performance. Yokogawa has refined our expertise in the combustion oxygen business into this new and creative product. It is packed with features designed to minimize plant down time and technical support for the oxygen measurement. A multiple point oxygen measurement system may be required for situations when gas stratification in the flue duct affects combustion control. The AV550G averaging analyzer is ideal for combustion control in large utility boilers or various industrial furnaces.
· Can accept inputs from up to eight ZR22 detectors
· Sends both individual and averaged sensor outputs
· Multipoint analyzer reduces installation and maintenance costs
· Large 5.7-inch color LCD display shows various measurement, setup, calibration, and trend screens
· Intuitive touchscreen is easy to read and simplifies setup and maintenance
· Individual channel cards can be "hot swapped"
· 4-20 mA standard outputs with HART or Foundation Fieldbus

Yokogawa ZR22/AV550G Multi Channel Oxygen Analyzer System model information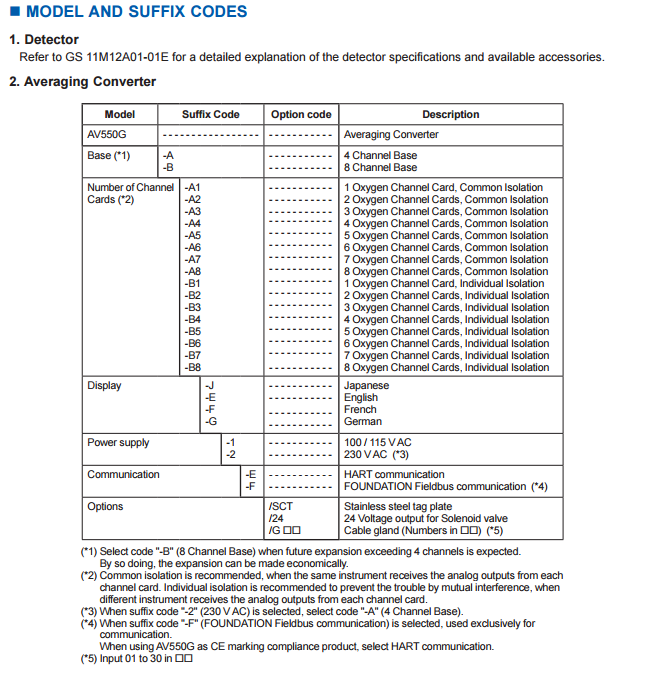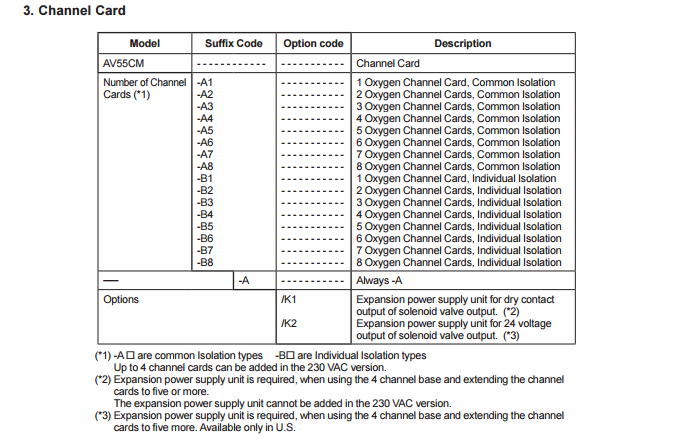 If you need any other information for Yokogawa
Oxygen Analyzer System ZR22/AV550G, please contact us here!
Contact details
HONGKONG XIEYUAN TECH CO., LIMITED
Telephone:86-027-85880977
Mobile :86-13545206420(Whatapp&Wechat is available)
Fax:86-027-85309780
Skype:Diana@hkxytech.com
E-mail:Diana@hkxytech.com
Website:www.hkxy-lowvoltage.com