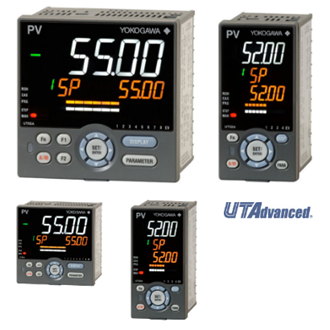 BASIC INFO
Product overview
Yokogawa Mid-level Temperature Controller UT55A/UT52A
The UT55A and UT52A temperature controllers employ an easy-to-read, 14-segment large color LCD display, along with navigation keys, thus greatly increasing the monitoring and operating capabilities. A ladder sequence function is included as standard. The short depth of the controller helps save instrument panel space. The UT55A/UT52A also support open networks such as Ethernet communication.
UT55A and UT52A Temperature Controller Features
· Up to 4 analog inputs available
· 3 alarm independent common terminals available as standard
· Ladder sequence programs can be built
· Simple operation
· Up to 18 DOs (combinations available)
· Multiple language operation manual (Japanese, English, German, French, Spanish, Chinese, and Korean) available. Please specify the desired language when ordering.
· Detailed code model available to customize specifications best suited to you.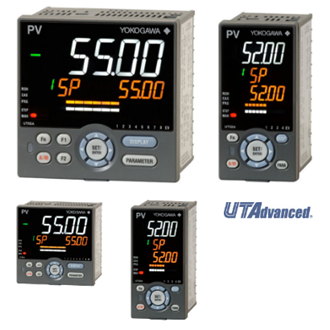 Product specification for Yokogawa UT52A for your reference
ITEM

UT55A

UT52A

PV input

Input type

1 Universal input (TC, RTD, mV, V, mA)

Indication accuracy

±0.1% of F.S.

Control scan period

50, 100, 200 msec

PV/SP data display

14-segment, 5 digits, Bar graph LCD display

Control outputs (MV)

Type

Relay, Voltage Pulse, Current

Algorithm

ON/OFF, PID (Continuous, Time-proportional), Heating/Cooling, Position-proportional

Digital inputs

Number

3 (Std) 9 (Max)

3 (Std) 5 (Max)

Type

SP No.Change, PID No. Change, A/M Change, etc

Digital outputs

Number

3 (Std) 18 (Max)

3 (Std) 5 (Max)

Function

PV High, PV Low, Dev High, etc

Current trans input (option)

Number

2

Retransmission

Number

1

Type

PV, SP, OUT, etc

Remote (aux.) input (option)

Number

1 or 3

1

Type

1 to 5 V, etc
Only 1 input can be changed to universal input when specified the /DR option

Loop power supply (LPS) (option)

Number

1

Voltage

21.6 to 28.0 VDC

Communication (option)

Number

1 or 2

1

Type

RS-485, Ethernet, PROFIBUS-DP, CC-Link, DeviceNet

RS-485

Other specifications

Power supply

100 to 240 VAC (+10%, -15%) or 24 VAC/DC (+10%, -15%) (option)

Power consumption

Max 18 VA

Max 15 VA

Mass

Max 0.5 kg

Model selection information for Yokogawa UT52A as below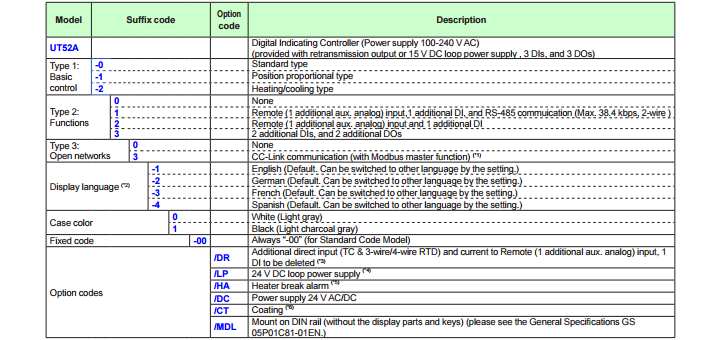 If you need more details about Yokogaw UT55A, please feel free to contact us, thanks.
Contact details
HONGKONG XIEYUAN TECH CO., LIMITED
Telephone:86-027-85880977
Mobile :86-13545206420(Whatapp&Wechat is available)
Fax:86-027-85309780
Skype:Diana@hkxytech.com
E-mail:Diana@hkxytech.com
Website:www.hkxy-lowvoltage.com