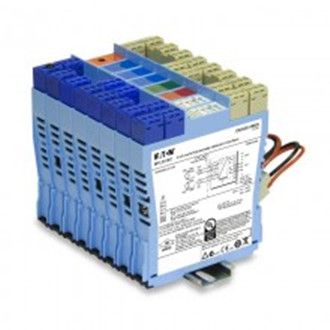 BASIC INFO
Production overviews
MTL 5500 Intrinsically Safe Isolators MTL5314
MTL5314 TRIP AMPLIFIER 4/20mA, for 2- or 3-wire transmitters
The MTL5314 connects to a 2- or 3-wire 4/20mA transmitter or current source located in the hazardous area. It supplies one or two configurable alarm signals to the safe area via changeover relays. Each relay may be configured individually to signal an alarm condition (relay de-energised) when the input signal is greater than or less than a pre-set value. In addition, the MTL5314 can be connected in series to the hazardous-area side of an MTL5541 4/20mA repeater power supply (or equivalent device) to provide two trip alarm outputs direct from the transmitter signal (see schematic diagram). Looping the transmitter signal through the MTL5314 (via terminals 1 and 3) does not affect HART communications.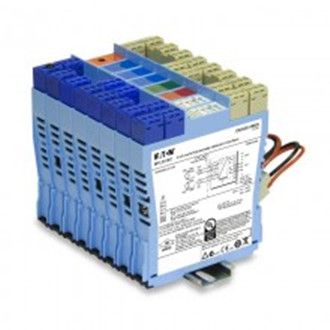 MTL5314 product specification
SPECIFICATION
See also common specification
Number of channels
One, with two configurable alarms
Location of field equipment
Zone 0, IIC, T4–T6 hazardous area, if suitably certified
Div 1, Group A, hazardous location
Safe-area output
Two relays with changeover contacts
Hazardous-area input
Signal range: 0 to 24mA
(including over-range)
Voltage available for transmitter (terminals 1 and 2)
>17V at 20mA
Current input (terminals 1 to 3)
Input resistance 25Ω maximum
Response time
<75ms
Trip-points
Trip-points can be adjusted by the user via multiturn
potentiometers accessible on the top of the unit.
Trip-point range 0.5 to 22mA
Effective resolution 20μA
Trip-point drift with temperature 1.5μA/°C max.
Hysteresis min 1% of trip-point range
max 1.7% of trip-point range
Relay type
Single pole, changeover contacts
Note: reactive loads must be adequately suppressed
Relay characteristics
Contact rating 250V ac, 2A, cosø >0.7
40V dc, 2A, resistive load
Contact life expectancy 3.3x105 operations
LED indicators
Power LED green, illuminated when the power is connected to
the module
Status LED yellow, one per trip, illuminated when relay is
energised (not tripped)
Supply voltage
20 to 35V dc
Maximum current consumption (with 20mA signal)
85mA at 24V
100mA at 20V
60mA at 35V
Maximum power dissipation within the unit
(with 20mA signal)
1.7W at 24V
1.8W at 35V

Other related product models for MTL5314 as below for your reference.
MTL5018AC
MTL5501-SR
MTL5510
MTL5510B
MTL5511
MTL5513
MTL5514
MTL5514D
MTL5516C
MTL5517
MTL5521
MTL5522
MTL5523
MTL5523V – V
MTL5524
MTL5525
MTL5526
MTL5541
MTL5541A
MTL5541AS
MTL5541S
MTL5544
MTL5544A
MTL5544AS
MTL5544D
MTL5544S
MTL5546
MTL5546Y
MTL5549
MTL5549Y
MTL5573
MTL5575
MTL5576-RTD
MTL5576-THC
MTL5581
MTL5582
MTL5582B
MTL5991
MTL5531
MTL5532
MTL5533
MTL5561
MPA5500
MTL5051
MTL5053
MTL5314
MTL5599
For more information about MTL5314 safe isolators, please feel free to contact me here.
Contact details
HONGKONG XIEYUAN TECH CO., LIMITED
Telephone
:86-027-85880977
Mobile
:86-13545206420(Whatapp&Wechat is available)
Fax
:86-027-85309780
Skype
:Diana@hkxytech.com
E-mail
:Diana@hkxytech.com Or Cc:
Dianatian118@gmail.com
Website
:www.hkxy-lowvoltage.com