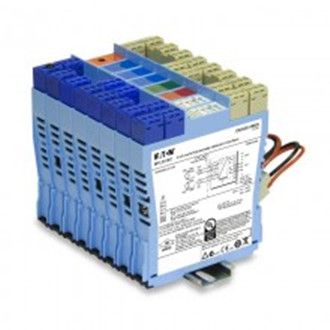 BASIC INFO
Production overviews
MTL 5500 Intrinsically Safe Isolators MTL5991
MTL5991 24V DC POWER SUPPLY
A DIN-rail mounted unit for locations where a dc supply is not readily available. The wide input power supply range makes this unit universally applicable and the 24V dc , 2A output will drive a useful number of MTL5000 and MTL5500 range of modules.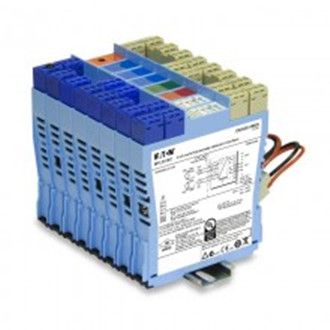 MTL5991 product specification
SPECIFICATION
Power supply
85 to 264V ac 47 to 63Hz
Power dissipation within unit
7.2W @ 2A
Mounting
35mm DIN (top hat) rail
Output voltage
24V dc nom (23.64 min/24.36 max)
Output current
2A maximum (1.7A with <105V ac input)
LED indicators
Green: Power indication
Weight
310g
Ambient temperature
Operating temperature –10°C to +50°C
Storage temperature –40°C to +85°C
Terminals
Cage clamp type accommodating conductors up to 2.5mm2
,stranded or single-core
SPECIFICATION
Available in 4 different lengths:
PB - 8T = 8 connectors and loops
PB - 16T = 16 connectors and loops
PB - 24T = 24 connectors and loops
PB - 32T = 32 connectors and loops
Insulation material :
PVC
Conductor :
24 strands of 0.2mm dia (0.75mm2
) standard copper
Insulation thickness :
0.5 to 0.8 mm
Current rating :
12A max
Operating temperature range :
–20ºC to +60ºC
Max voltage drop on 32 modules drawing 130mA max :
0.5V


Other related product models for MTL5500 series as below for your reference.
MTL5018AC
MTL5501-SR
MTL5510
MTL5510B
MTL5511
MTL5513
MTL5514
MTL5514D
MTL5516C
MTL5517
MTL5521
MTL5522
MTL5523
MTL5523V – V
MTL5524
MTL5525
MTL5526
MTL5541
MTL5541A
MTL5541AS
MTL5541S
MTL5544
MTL5544A
MTL5544AS
MTL5544D
MTL5544S
MTL5546
MTL5546Y
MTL5549
MTL5549Y
MTL5573
MTL5575
MTL5576-RTD
MTL5576-THC
MTL5581
MTL5582
MTL5582B
MTL5991
MTL5531
MTL5532
MTL5533
MTL5561
MPA5500
MTL5051
MTL5053
MTL5314
MTL5599
If you need more information for MTL5591 isolated barriers, please send me an inquiry here.
Contact details
HONGKONG XIEYUAN TECH CO., LIMITED
Telephone
:86-027-85880977
Mobile
:86-13545206420(Whatapp&Wechat is available)
Fax
:86-027-85309780
Skype
:Diana@hkxytech.com
E-mail
:Diana@hkxytech.com Or Cc:
Dianatian118@gmail.com
Website
:www.hkxy-lowvoltage.com