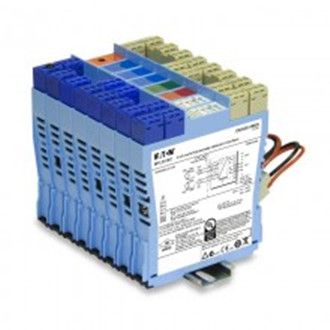 BASIC INFO
Production overviews
MTL 5500 Intrinsically Safe Isolators
MTL5549Y
MTL4549/C/Y - MTL5549/Y ISOLATING DRIVER two-channel, for 4–20mA, HART® valve positioners with line fault detection The MTLx549 accepts 4/20mA floating signals from safe-area controllers to drive 2 current/pressure converters (or any other load up to 800Ω) in a hazardous area. For HART valve positioners, the module also permits bi-directional transmission of digital communication signals. Process controllers with a readback facility can detect open or short circuits in the field wiring: if these occur, the current taken into the terminals drops to a preset level. The MTL4549C and MTLx549Y are very similar to the MTLx549 except that they provide open circuit detection only (i.e. no short-circuit detection).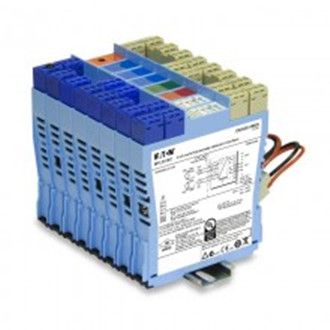 MTL5549Y product specification
SPECIFICATION
See also common specification
Number of channels
Two
Location of I/P converter
Zone 0, IIC, T4–6 hazardous area if suitably certified
Div. 1, Group A, hazardous location
Working range
4 to 20mA
Digital signal bandwidth
500Hz to 10kHz
Maximum load resistance
800Ω (16V at 20mA)
Minimum load resistance
90Ω (short-circuit detection at < 50Ω)
Output resistance
> 1MΩ
Under/over range capability
Under range = 1mA
Over range = 24mA (load ≤ 520Ω)
Input and output circuit ripple
<40µA peak-to-peak
Communications supported
HART
Transfer accuracy at 20°C
Better than 20µA
Temperature drift
< 1.0µA/°C
Response time
Settles within 200µA of final value within 100ms
LED indicator
Green: power indication
Maximum current consumption (with 20mA signals into 250Ω load)
70mA at 24V dc
Power dissipation within unit (with 20mA signals into 250Ω load)
1.6W at 24V
Safety description (each channel)
Uo=28V Io=93mA Po=0.65W Um = 253V rms or dc
Other related product models for MTL5500 series product as below for your reference.
MTL5018AC
MTL5501-SR
MTL5510
MTL5510B
MTL5511
MTL5513
MTL5514
MTL5514D
MTL5516C
MTL5517
MTL5521
MTL5522
MTL5523
MTL5523V – V
MTL5524
MTL5525
MTL5526
MTL5541
MTL5541A
MTL5541AS
MTL5541S
MTL5544
MTL5544A
MTL5544AS
MTL5544D
MTL5544S
MTL5546
MTL5546Y
MTL5549
MTL5549Y
MTL5573
MTL5575
MTL5576-RTD
MTL5576-THC
MTL5581
MTL5582
MTL5582B
MTL5991
MTL5531
MTL5532
MTL5533
MTL5561
MPA5500
MTL5051
MTL5053
MTL5314
MTL5599
For more information about MTL5549Y product, please feel free to contact me here.
Contact details
HONGKONG XIEYUAN TECH CO., LIMITED
Telephone:86-027-85880977
Mobile :86-13545206420(Whatapp&Wechat is available)
Fax:86-027-85309780
Skype:Diana@hkxytech.com
E-mail:Diana@hkxytech.com Or Cc:Dianatian118@gmail.com
Website:www.hkxy-lowvoltage.com