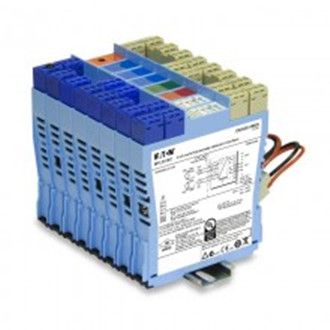 BASIC INFO
Production overviews
MTL 5500 Intrinsically Safe Isolators MTL5544A
MTL4544A/AS – MTL5544A/AS CURRENT REPEATER 4/20mA passive i/p for HART® transmitters The MTLx544A provides an input for separately powered 4/20mA transmitters and also allows bi–directional transmission of HART communication signals superimposed on the 4/20mA loop current, so that the transmitter can be interrogated either from the operator station or by a hand-held communicator (HHC). Alternatively, the MTLx544AS acts as a current sink for a safe-area connection rather than driving a current into the load.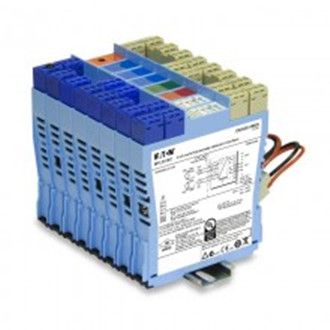 MTL5544A product specification
SPECIFICATION
See also common specification
Number of channels
Two
Location of transmitter
Zone 0, IIC, T4–6 hazardous area if suitably certified
Div.1, Group A, hazardous loc ation
Hazardous area input
Signal range: 4 to 20mA
Under/over-range: 1.0 to 21.5mA
Input impedance for HART signals
at terminals 1, 2 and 4, 5: > 230Ω
Maximum input volt drop
at terminals 1, 2 and 4, 5: < 6.6V
i.e. a transmitter load of 330Ω at 20mA
Safe-area output
Signal range: 4 to 20mA
Under/over-range: 1.0 to 21.5mA
Safe-area load resistance (MTL5544A)
Conventional transmitters: 0 to 360Ω
Smart transmitters: 250Ω ±10%
Safe-area load (MTL5544AS)
Current sink: 600Ω max.
Maximum voltage source: 24V DC
Safe-area circuit output resistance: > 1MΩ
Safe–area circuit ripple
< 50µA peak-to-peak up to 80kHz
Transfer accuracy at 20°C
Better than 20µA
Temperature drift
< 1µA/°C
Response time
Settles within 200µA of final value after 20ms
Communications supported
HART
LED indicator
Green: power indication
Power requirement (with 20mA signal)
70mA at 24V
85mA at 20V
50mA at 35V
Power dissipation within unit (with 20mA signals)
MTLx544A 1.5W @ 24V dc
MTLx544AS 2.0W @ 24V dc
Safety description
Terminals 1 to 2 and 4 to 5:
Um = 253V rms or dc.
8.6V (diode). This voltage must be considered when calculating
the load capacitance.
Non-energy-storing apparatus ≤1.5V, ≤0.1A and ≤25mW; can be
connected without further certification into any IS loop with an opencircuit
voltage < 28V


Other related product models for MTL5544A as below for your reference.
MTL5018AC
MTL5501-SR
MTL5510
MTL5510B
MTL5511
MTL5513
MTL5514
MTL5514D
MTL5516C
MTL5517
MTL5521
MTL5522
MTL5523
MTL5523V – V
MTL5524
MTL5525
MTL5526
MTL5541
MTL5541A
MTL5541AS
MTL5541S
MTL5544
MTL5544A
MTL5544AS
MTL5544D
MTL5544S
MTL5546
MTL5546Y
MTL5549
MTL5549Y
MTL5573
MTL5575
MTL5576-RTD
MTL5576-THC
MTL5581
MTL5582
MTL5582B
MTL5991
MTL5531
MTL5532
MTL5533
MTL5561
MPA5500
MTL5051
MTL5053
MTL5314
MTL5599
For more information about MTL5544A safe isolators, please feel free to contact me here.
Contact details
HONGKONG XIEYUAN TECH CO., LIMITED
Telephone
:86-027-85880977
Mobile
:86-13545206420(Whatapp&Wechat is available)
Fax
:86-027-85309780
Skype
:Diana@hkxytech.com
E-mail
:Diana@hkxytech.com Or Cc:
Dianatian118@gmail.com
Website
:www.hkxy-lowvoltage.com