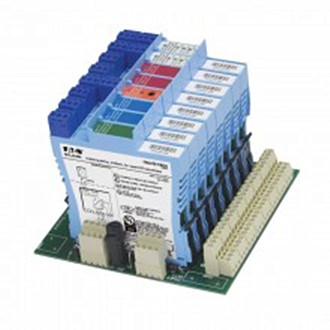 BASIC INFO
Production overviews
MTL 4500 Intrinsically Safe Isolators MTL4526
MTL4526 – MTL5526 SWITCH-OPERATED RELAY 2–channel IS–output The MTLx526 enables two separate IS circuits in a hazardous area to be contact controlled by one or two, on/off, control signals in a safe area. Applications include the calibration of strain–gauge bridges; changing the polarity (and thereby the tone) of an IS sounder; the testing of IS fire alarms; and the transfer of safe-area signals into an annunciator with IS input terminals not segregated from each other. The output–relay contacts are certified as non–energy–storing apparatus, and can be connected to any IS circuit without further certification, provided that separate IS circuits are such that they would remain safe if connected together.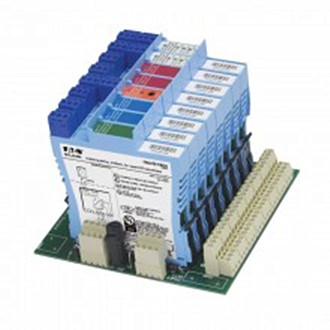 MTL4526 safe isolator product specification
SPECIFICATION
See also common specification
Number of channels
Two, fully floating
Location of control circuit
Safe area
Input/output characteristics
Contact/Logic mode
(Inputs suitable for switch contacts, an open–collector transistor
or logic drive)
Relay energised if < 450Ω or < 1V applied
Relay de–energised if > 5kΩ or > 2V applied (35V max.)
Loop powered mode
Relay energised if >20V
Relay de-energised if <17V
Power supply failure protection
Relays de–energised if supply fails
Response time
25ms nominal
Contacts (suitable for connection to IS circuits)
1–pole changeover per channel
Contact rating
250V ac, limited to 40V dc for IS applications, 2A
(reactive loads must be suppressed)
Contact life expectancy
2 x 107
operations at maximum IS load
Relay drive (see switch setting table)
Choice of "loop-powered" or "contact/logic" control, for both
channels, by switch selection. A further switch option ("1in2out")
enables either input, in contact/logic mode, to activate both
outputs.

LED indicators
Green: power indication
Yellow: two: output status, on when relay energised
Power requirement, Vs
41mA at 20V dc
44mA at 24V dc
60mA at 35V dc
Power dissipation within unit
1.1W maximum at 24V
Safety description (each channel)
Non-energy–storing apparatus: relay contacts may be connected
to any IS circuit without further consideration

Other related product models for MTL4500 series isolators as below.
MTL4501-SR
MTL4504
MTL4510
MTL4510B
MTL4511
MTL4513
MTL4514D
MTL4514_B
MTL4516
MTL4516C
MTL4517
MTL4521
MTL4521L
MTL4523
MTL4523L
MTL4523R
MTL4523V-VL
MTL4524
MTL4524S
MTL4525
MTL4526
MTL4541
MTL4541A
MTL4541AS
MTL4541B
MTL4541P
MTL4541S
MTL4541T
MTL4544
MTL4544A
MTL4544AS
MTL4544B
MTL4544D
MTL4544S
MTL4546
MTL4546C
MTL4546S
MTL4546Y
MTL4549
MTL4549C
MTL4549Y
MTL4573
MTL4575
MTL4576-RTD
MTL4576-THC
MTL4581
MTL4582B
MTL4531
MTL4532
MTL4561
MTL4599
MTL4599N
Where to find MTL4526? Contact me online!
Contact details
HONGKONG XIEYUAN TECH CO., LIMITED
Telephone
:86-027-85880977
Mobile
:86-13545206420(Whatapp&Wechat is available)
Fax
:86-027-85309780
Skype
:Diana@hkxytech.com
E-mail
:Diana@hkxytech.com Or Cc:
Dianatian118@gmail.com
Website
:www.hkxy-lowvoltage.com