Emerson TREXLHPKLWS1S handheld device communicator for you!
Good news!
Emerson TREXLHPKLWS1S handheld device communicator in stock for you!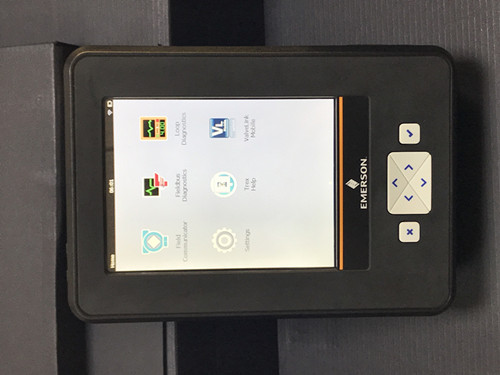 Emerson TREXLHPKLWS1S handheld device communicator product specification.
Specifications
Weight :Approximately 2.9 lbs (1330 grams)
Microprocessor: 800 MHZ ARM Cortex A8/NXP
Memory: Internal Flash 2 GB NAND and 32 GB extended flash
RAM: 512 MB DDR3 SDRAM
Display :5.7 in (14.5 cm) color VGA resistive touchscreen
Battery Operating Time: 8+ hours of typical use
Operating Temperature :-20 to 55°C (-4 to 122°F)
Enclosure Rating: IP54
Shock Tested: to survive a 1-meter drop test onto concrete
Emerson TREXLHPKLWS1S handheld device communicator product Features
Eliminate the need for specialized tools with power the loop functionality
Quickly resolve field devices issues with advanced diagnostics
Configure and test valves inline
Improve efficiency with a modern, intuitive user interface
Intrinsically safe to go anywhere you go
Automatically synchronize field data with AMS Device Manager

The latest hot sale product models for your reference.
TREXCHPNAWS1
TREXLHPNAWS1
TREXCFPNAWS1
TREXLFPNAWS1
TREXCHPNAWS3
TREXLHPNAWS3
TREXCFPNAWS3
TREXLFPNAWS3
TREXCHPNAWP1
TREXLHPNAWP1
TREXCFPNAWP1
TREXLFPNAWP1
TREXCHPNAWP3
TREXLHPNAWP3
TREXCFPNAWP3
TREXLFPNAWP3
TREXCHPNA9S1
TREXLHPNA9S1
TREXCFPNA9S1
TREXLFPNA9S1
TREXCHPNA9S3
TREXLHPNA9S3
TREXCFPNA9S3
TREXLFPNA9S3
TREXCHPNA9P1
TREXLHPNA9P1
TREXCFPNA9P1
TREXLFPNA9P1
TREXCHPNA9P3
TREXLHPNA9P3
TREXCFPNA9P3
TREXLFPNA9P3
TREXCHPKLWS1
TREXLHPKLWS1
TREXCFPKLWS1
TREXLFPKLWS1
TREXCHPKLWS3
TREXLHPKLWS3
TREXCFPKLWS3
TREXLFPKLWS3
TREXCHPKLWP1
TREXLHPKLWP1
TREXCFPKLWP1
TREXLFPKLWP1
TREXCHPKLWP3
TREXLHPKLWP3
TREXCFPKLWP3
TREXLFPKLWP3
TREXCHPKL9S1
TREXLHPKL9S1
TREXCFPKL9S1
TREXLFPKL9S1
TREXCHPKL9S3
TREXLHPKL9S3
TREXCFPKL9S3
TREXLFPKL9S3
TREXCHPKL9P1
TREXLHPKL9P1
TREXCFPKL9P1
TREXLFPKL9P1
TREXCHPKL9P3
TREXLHPKL9P3
TREXCFPKL9P3
TREXLFPKL9P3
Dear customer, if you're interested in our Emerson TREXLHPKLWS1S AMS Trex communicator, or have any question about this product,
you can feel free to contact me here.
Contact details
HONGKONG XIEYUAN TECH CO., LIMITED
Telephone
:86-027-85880977
Mobile
:86-13545206420(Whatapp&Wechat is available)
Fax
:86-027-85309780
Skype
:Diana@hkxytech.com
E-mail
:Diana@hkxytech.com Or Cc:
Dianatian118@gmail.com
Website
:www.hkxy-lowvoltage.com