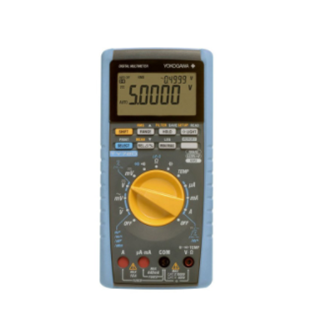 BASIC INFO
Product overview
Yokogawa Digital Multimeter TY710 product with good price in stock for sale now.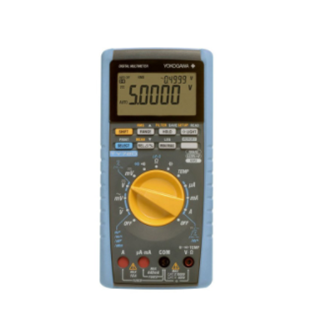 Yokogawa Digital Multimeter TY710 product description.
The Yokogawa digital multimeter is 4.5-digit (50,000-count dual display, 51-segment bar graph display), RMS type Measurement Functions: Voltage, Current, Resistance, Continuity Check, Diode Test, Frequency, Capacitance, Temperature
Features:Category IV 600V, Category III 1000V, Large Internal Memory (1,000 data), USB Communication function, Closed Case Calibration (User calibration function).
Yokogawa Digital Multimeter TY710 product details
Measurement Function
DC voltage, AC voltage, DCV+ACV, DC current, AC current, DCA+ACA, resistance, frequency, temperature, capacitance, duty cycle, decibel calculation, continuity check, diode test, For AC voltage/current
Additional Functions
Range hold, maximum/minimum/average values resistance, capacitance zero, relative and percentage value calculation, manual-mode memory, logging-mode memory, auto power off, backlight (white LED)
Display
5-digit LCD: 7-segment
Digital display: Main display; [50,000] counts
Sub-display; [50,000] counts
Bar graph display: 51-segment
Polarity indicator: "-" appears automatically when the polarity is negative
Overrange indicator: "OL"
Features

Highest Precision
Basic accuracy 0.020%
True RMS measurement
New Functions for Electronic and Industrial Use
Simultaneous measurement and display of DC and AC
Switchable RMS/MEAN detection
Low-pass Filter (LPF)
AC50mV range
Lo-Power resistance measurement TY720 only
Full Support for Data Management
A large-capacity logging-mode memory
TY720: 10,000 data
TY710: 1,000 data
USB communication, application software (Optional DMM communication package)
Safe Design and Wide Temperature Range for Harsh Use
Conforms to safety standards EN61010-1 1000V CAT., 600V CAT.
Safety shutters for preventing erroneous insertion of test leads into current measurement terminals
Operating temperature range -20 to +55C
Storage temperature range -40 to +70
Closed Case Calibration
3-year Warranty
Other related product models for
Yokogawa Digital Multimeter TY710 as below.
Yokogawa Portable and Handheld Instruments
Digital Multimeters--
DM7560 Digital Multimeter 6.5 Digit
Digital Multimeter TY720
Digital Multimeter TY710
Digital Multimeter TY530
Digital Multimeter TY520
Pocket Digital Multimeter 73101
Process Multimeter CA450
Calibrators
Process Calibrator CA300 Series
Low Pressure Calibrator CA700
Multifunction Calibrator CA150 (Handheld)
Multifunction Calibrator CA71 (Portable)
Process Multimeter CA450
Portable Power Monitor/Recorder
Power Quality Analyzer CW500
Clamp-on Power Meter CW10 (Single-Phase)
For more information about
Yokogawa Digital Multimeter TY710, please feel free to contact me here.
Contact details
HONGKONG XIEYUAN TECH CO., LIMITED
Telephone
:86-027-85880977
Mobile
:86-13545206420(Whatapp&Wechat is available)
Fax
:86-027-85309780
Skype
:Diana@hkxytech.com
E-mail
:Diana@hkxytech.com Or Cc:
Dianatian118@gmail.com
Website
:www.hkxy-lowvoltage.com